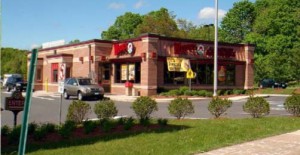 Under new ownership, this existing strip mall in Bristol, Connecticut, was in need of a face lift and the addition of income generating tenants. The construction of a new pad site was seen as the solution to the financial difficulties the site was encountering. Wendy's was selected as the tenant for the new pad site.
To achieve the desired layout, LRC adjusted the main entrance drive to the site while not affecting or relocating the existing traffic signal onto a state road. LRC also performed on-site drainage and relocation of an existing storm drainage pipe.
LRC worked closely with City Planning staff to achieve a design that was acceptable to the municipality and ultimately approved by the city's Planning and Zoning Commission. LRC Engineered plans, designing the new drainage system and the required location, led the permitting application process and oversaw construction. The site is fully constructed and generating the client's desired income, lending economic viability to an otherwise debilitated site.