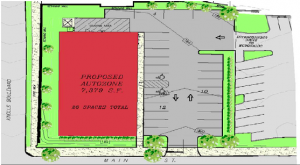 LRC has worked on numerous AutoZone sites throughout Connecticut and New York offering a myriad of services from full survey to civil permitting efforts and environmental reports to clean-up monitoring. The two sites shown here are sites where LRC was instrumental from inception to completion of the projects. LRC designed the full permit and construction drawings for each of these sites and oversaw their construction.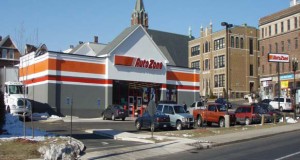 The Meriden Connecticut, site (pictured left) presented a number of design challenges in its odd shape and its excessive frontage along three roads all with varying steepness. Circulation, both on-site and off-site, presented obstacles that needed to be surmounted. Controlling the increase in storm water runoff required the innovative design that LRC is widely recognized for. LRC successfully overcame all of these difficulties and the result is the new AutoZone serving the Meriden community.
The Poughkeepsie, New York, site (shown below) was another topographically challenging site which LRC successfully designed linking the site with an abutting fast-food restaurant as site design required.
Both sites are currently built and fully operational.