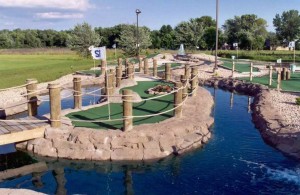 The design goal of Gilbert Farms Recreation Facility was to create a project that satisfied zoning restrictions while providing the client a viable commercial facility. A large wetland corridor with associated buffers was located in the middle of the site leaving two buildable areas. This unique configuration required that the design accommodate and take advantage of the separation requirements of the separate sport areas. The principal features of the center are a seasonal PGA quality driving range, miniature golf area and a year round 40,000 sf recreation building.
The proposed tenants for the building include activities such as gymnastics, dance studios, and various indoor sports. Adjacent to the new recreation building is the 18 hole miniature golf course.
The project utilized existing structures for the base of the business operations. This facilitated placement of the driving range and practice facility on a second distinct portion of the site. The range was designed with covered tees as well as a high quality chipping and putting practice area.