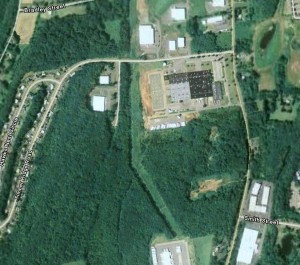 LRC was retained to provide site design and engineering for 3 different development scenarios on this challenging site. Although 39 acres in size and rectangular in shape, the site has over 70' of grade change across its narrow dimension. Additional constraints were imposed by a large continuous wetland on the eastern border and other isolated pockets of wetlands as well as the presence of ledge at depths of 2' to 6'.
Plans were developed and approved for a 6 lot industrial subdivision and a single tenant 200,000 square foot building. This plan included IWWC approval to fill approximately 8,000 square feet of wetlands.
Upon receiving a determination that an Army Corps application and permit would be required, the client opted to reduce the single tenant building size to 25,000 square feet. This development plan was approved by both IWWC and Planning & Zoning Commissions.