March through April of 2010, The LRC Group partnered with iSurvey of Asker, Norway to oversee and prepare an as-built survey of the three newly installed Long Island Replacement Cable (LIRC) running from Norwalk, CT to Northport, Long Island N Y . The project ran approximately eleven miles and required the use of a Submersible Remote Operated V ehicle (RO V). The RO V was fitted with transponders, a TSS cable tracking system to follow the cable and record its depth and a mulity beam sonar device to map the ocean bottom.
Mapping included the final plan and profile of the cable route which was submitted to the New York Department of Environmental Conservation (DEC), Connecticut Department of Energy and Environmental Protection Agencies and ARMY Corp of Engineers. Mapping submitted to the ARMY Corp was used to update the shipping navigation charts of the area.
LRC was responsible for project coordination and quality control including Global Positioning System (GPS) verification. All horizontal valves were referenced to the World Geographic System (WGS) of 1984 and elevations were based on the Mean Low Lower Water (MLLW) reference to the City of Bridgeport Tidal Station.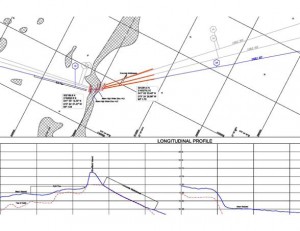 In the Spring of 2010 LRC provided additional survey support during the replacement of a portion of the cables. A cable required replacement and monitoring during the replacement process. Once the cable was repaired the as-built plans were updated and resubmitted to the appropriate agencies.